The Importance of Due Diligence for Your Commercial Real Estate Transaction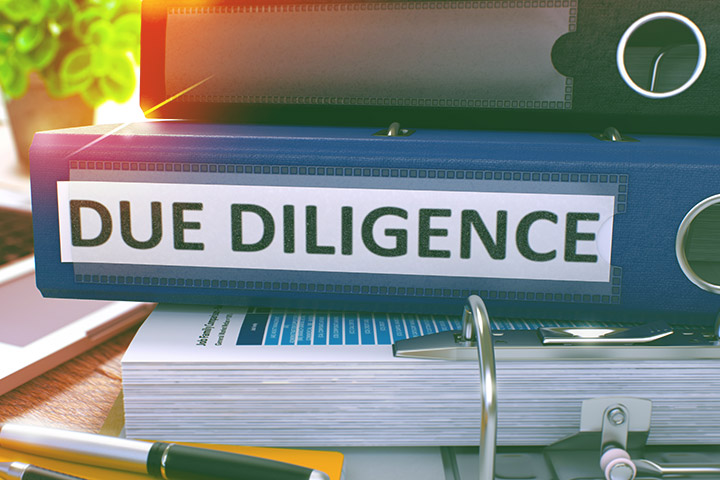 Whether you are a new investor, a business owner, or a seasoned investor, history has proven that you can never underestimate the value of performing comprehensive due diligence when it comes to commercial real estate transactions. Executing the myriad of tasks necessary to successfully purchase a commercial real estate (CRE) property is not for the faint of heart. It pays off in the long run to conquer due diligence tasks prior to purchasing.
While there are inherent risks in owning a commercial real estate building, investing in the ever-important steps involved in due diligence decreases risks and increases your opportunities to profit from your investment for years to come. Investors who resist rushing into a transaction by practicing due diligence come out ahead of those who overlook the process and may find themselves in trouble after purchasing what may prove to be a ticking time bomb.
Due Diligence Decreases Post-Transaction Surprises
Avoid risking costly surprises after a transaction by turning over every stone prior to purchasing a new commercial real estate property. Due diligence is the process of investigating details on the property you are considering for your next investment. Checking, double checking, and confirming information on the property will establish if it is a worthwhile purchase. It takes persistence and a number of weeks to complete due diligence undertakings, but the process protects you both financially and legally.
Evaluate Risks Against Rewards
As facts are uncovered about the potential property purchase, investors evaluate the risks against the rewards while considering all the ingredients to the property acquisition. The more investors learn of items that need to be addressed, the stronger their hand in the negotiations. The result of risks being unearthed during the due diligence process arms investors with documented facts to ensure a fair transaction.
You may need to hire a professional inspection company and/or an accountant in the process of due diligence. When multiple property purchases are in your future, you may find it helpful to create a due diligence checklist and systematically go through it when approaching a potential property purchase. Since each real estate transaction is unique, each requires a specific due diligence plan, yet there are due diligence principles that apply to most CRE transactions. Here are some vital ones:
ADA Compliance
It's vital to verify compliance of the building with the Americans with Disabilities Act.
Each state has regulations concerning accessibility and needed modifications to ensure compliance.
Prior to purchasing a building, property or undeveloped land, check with the federal government to understand what is required.
Financial Due Diligence
Since you are headed in the direction of purchasing the property, and clearly the reason for the purchase is to increase income streams, it is vital to investigate the CRE property's past financial performance, and project its value for your future. Request the following records of the property's financial performance from the seller:
Income and expenses – Basic numbers outlining the amount collected in income from the CRE tenants as well as the operational expenses for the property for the last several years will give you a good idea of the property's financial performance. A monthly profit/loss statement should also be obtained from the last several years. Evaluate if the property will produce what you expect financially before moving forward on its purchase.
Lease agreements – Leases can be intricate legal documents. Seek professional assistance from an attorney on reading lease agreements for apartment buildings.
Utilities – Look over the last several years of utility bills including gas, electric, water, sewage, trash, cable, and internet service. Verify these line up with the amounts on the expense statement to get an accurate picture of the monthly utility costs.
Property taxes – The last several years of property taxes should be evaluated and match the numbers on the expense statement. The tax assessor's office can be contacted to inquire how and when the property will be reassessed.
Rent roll – Obtain a rent roll which includes all the tenants' names, units, rental rates, move in dates, lease expiration dates, and security deposit amounts. Review the rent amounts and total income to compare the numbers with the income and expense statement to verify everything is in agreement.
Physical Due Diligence
A walk through the CRE property isn't the only thing involved in physical due diligence. Request the following from the seller:
Site plans and specifications – Obtain a copy of construction documents, floor plans, land use documents, building plans and schematics. Uncover how the property was built and the purpose for which it was built.
Structural inspection – Verify the integrity of the property's walls, roof, and foundation. A professional inspection company will guide this interior and exterior inspection.
Interior inspections – The property's interior should be inspected including doors, windows, and weatherproofing.
Exterior inspections – The exterior should be inspected including the roof's age, building code violations, government compliance, and site improvements.
Mechanical and electrical inspection – The CRE property's systems such as heating, ventilation, air conditioning, plumbing, and electrical systems should be professionally inspected.
Legal Due Diligence
Survey and title inspection – To verify the property's size and review any liens, judgements, easements, or encroachments on the property. A clear title must be established before closing.
Building code violation – Uncover any unauthorized construction, non-city approved developments, or substandard electrical or plumbing work that has been done on the CRE property.
Zoning code – Verify the property's use is what it is zoned for by the city (commercial or residential).
Personal property inventory – The transfer of equipment, tools, furniture, computers, supplies, and appliances that remain in the building after it is purchased should be documented.
Buying CRE properties can be challenging, but the rewards can show up for years to come. See our McGraw Commercial Properties Services and FAQs to get answers to your questions. Then call to discuss your CRE needs.