What are the Pros and Cons of Buying vs. Leasing Office Space?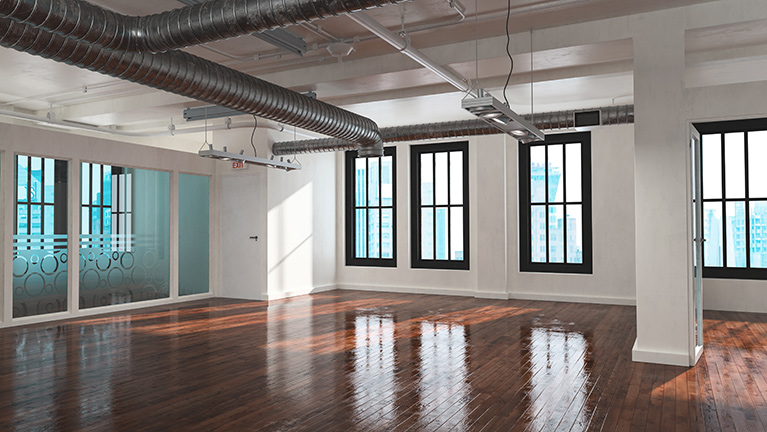 Business owners contemplating the tough decision of buying vs. leasing office space take a variety of factors into consideration in order to make the best long-term choice. While leasing commercial real estate offers quick-start solutions, buying provides multiple long-term benefits. Here are some facts to consider while weighing the pros and cons of leasing vs. buying the right office space for your business.
Pros of leasing office space
The beauty of leasing office space for your business is that you don't have to tie up your capital. Your focus can remain dedicated on growing your business. Here are some top reasons business owners decide to lease commercial real estate:
There are no maintenance responsibilities—Most office space leases leave the responsibility to maintain the building with the landlord. Roof repairs, air conditioner and heating units, as well as minor maintenance needs will all be taken care of for you when you lease. So, you are able to stay focused on your business goals without the added responsibilities of facility maintenance.
You can choose from a broader variety of locations—If your business requires a specific location and nothing is for sale in that area, it may be advantageous to lease space for a period of time instead of buying it. It's easier to qualify for a lease, and you may end up with more options from which to pick for your location when leasing vs. buying. You may find that you can land office space in a prime location because you are leasing and not buying. And when the lease is up, you don't have to sell the property to move elsewhere.
You have more time to dedicate to business growth—It takes time to locate, buy, and maintain commercial real estate. Leasing office space frees up your time to simply do what you do best—grow your business.
Leasing keeps your capital freed up so you have options—When your capital isn't tied up in buying an office facility, you have the option to utilize it elsewhere.
It buys you time to find the best place to purchase—If you desire to buy and you simply can't find the right lot or location, it may be good to consider leasing office space until everything is in order to purchase the commercial real estate you truly desire.
Cons of leasing office space
You don't receive the benefits of building equity—As far as equity and its benefits go, you miss out when you lease. There's nothing to show for the lease payment you make monthly.
Rent payments can increase at random—Leasing prices can increase while you are in the building, so realize you don't get the benefit of fixed monthly payments for the long-term while leasing office space.
Pros of buying a CRE investment property to house your business
Long-term, it's generally wise to buy a commercial real estate investment property in which to operate your business. Here are some of the pros to purchasing office space:
You can enjoy your desired location for the long-term—When you buy office space for your business, you can stay in your location for the length of time you choose. No one will ask you to move.
You experience the tax benefits owning a CRE investment property brings—The tax deductions associated with owning an office building benefit your business. Mortgage interest, property tax, and depreciation deductions provide incentives to buy an office for your business.
Your business will have fixed rather than fluctuating costs—Unlike rental properties, there are no random increases in your monthly loan payment. The stability of fixed costs for the duration of your mortgage loan builds in clear predictability for your monthly cash flow.
You receive additional income streams—Investing in purchasing office space opens up opportunities to add additional revenue streams through renting a portion of your office to other businesses.
It positions your business to expand—The beauty of buying your office space lies in the stability of a wise long-term investment. Equity builds monthly and puts you into a better position to expand your business.
There is no need for a landlord—Buying your own commercial real estate means you no longer have to deal with a landlord or wait to have things fixed on their timetable. Additionally, some landlords can be difficult to deal with, and when buying office space, you bypass possible challenges with landlords.
Cons of buying office space
Although the upfront costs of purchasing commercial real estate office space are substantial, the payoffs stack up as the years go by and you have equity and additional revenue streams rewarding your purchase. In spite of the fact that there are some cons to buying a CRE property, if you plan for the challenging aspects of owning, you'll likely end up ahead in the long run. The cons of buying office space include:
Substantial initial costs—It costs more upfront to buy your office facility. Before buying, the financial impact of your down payment, appraisal, and mortgage payment should be thoroughly considered.
Maintenance costs and responsibilities—When you own the building, you pay to fix it, and you are the one inconvenienced when unexpected maintenance issues arise. You need to prepare ahead of time for large maintenance items such as a new HVAC system or a new roof, and take care of preventative maintenance to ensure your building is in tip-top shape.
Long-term needs can change—Unexpected situations can sometimes put business owners into a position where they need to sell their office space.
The final decision to buy or lease depends on a variety of factors such as: your business equity, tax implications, cash outflows, recurring costs, location requirements, business needs, and more.
Ready to expand your business? McGraw Commercial Properties is here to help. We'll aid you in finding the right property and negotiating the deal. See our services; then call and tell us about your CRE needs.